new reflections
residential project
All of our clients rely on us to curate spaces which offer more than aesthetic appeal. They acknowledge our experience within the practice of interior design and come to us requiring meaningful value from their space; for an enhanced experience within it.
This residential project brief was no exception. The clients emotive connection to the space felt disjointed, the lighting, texture and colour created a sterile atmosphere and consequently affected how the client interacted with the space on a functional level.
They needed warmth to encourage a sense of togetherness for the family and a dedicated place within their home which provided balance and ambience when needed. Most importantly however, they required a space which reflected their own unique personality.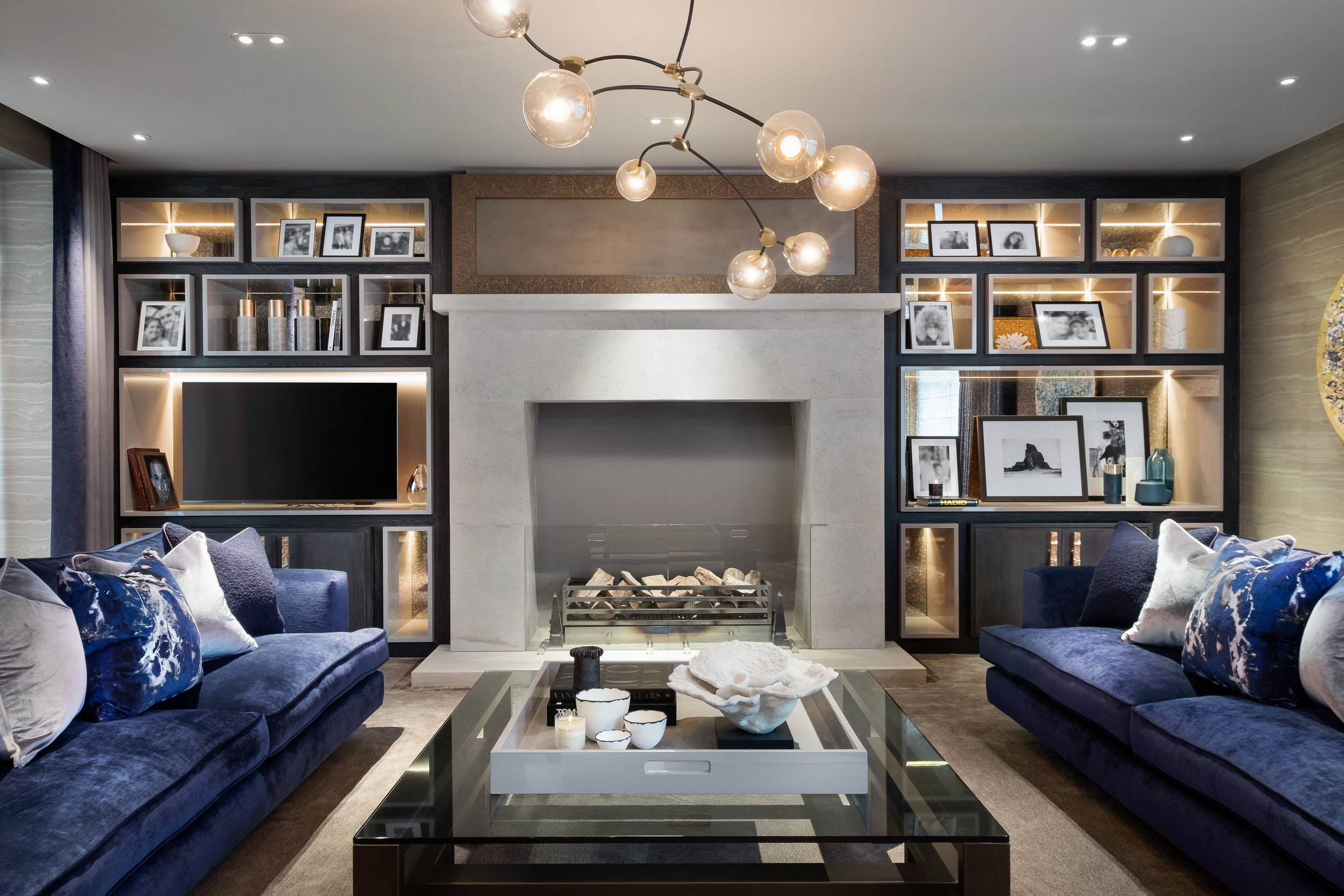 an enhanced, Balanced feeling
Large antique mirrors reflecting the view of beautiful portrait windows on the front elevation were introduced with the core purpose of providing a sense of natural light throughout the room. As a result the space benefited from an enhanced sense of height and openness which when combined with the symmetry of the product placements provided a overall balanced feeling.
an abundance of ambience
Creating illumination at different levels to form points of interest within the space was integral in fulfilling the clients brief. Emitting a soft glow, a large sculpture pendant-light formed the central focus of the room, an important visual reference needed within the large open space. This cleverly combined with the bespoke shelvings hidden-lighting curated a space which felt unforgettably ambient and provided versatility.
Considerd texture
Warmth and depth were introduced to the scheme by virtue of considered textural elements throughout. Layers of sumptuous textiles, from silk velvets to wool bouclé and real leather were applied, complimented by great attention to the textural detailing within the luxury finishes. Handcrafted oak joinery, gloss lacquers and bespoke metal finishes all encouraged a sense overall of textural togetherness, present even within the not-so-obvious details such as bespoke side tables and the beautiful chandelier centrepiece. The attention to detail we applied to the textural elements dramatically changed how the space now works on functional level, accommodating the specific need for the space to bring the family together in one harmonious setting.
COMMISSIONED ARTWORKS
As a studio we sourced and commissioned unique artworks by artist Fenella Elms to compliment the scheme, working closely with the client to ensure an affinity was felt with the bespoke pieces. Fenella Elms is an award winning artist and designer who works with ceramics, her bespoke pieces have notably been presented in ceramic art books as well as high-end interiors and architecture magazines.
Individual personality
An injection of colour was applied throughout in accents, bespoke crafted chairs which anchored the space incorporated bold print-patterns, utilised to provide individual personality; a key element which the space lacked previously.
Accessories were hand selected, in some instances our design team visited the makers workshops personally to select each individual piece. Scents by Malin and Goetz provided earthy, cosy notes of haitian vetiver, warm amber and guaiacwood, providing the holistic experience of a relaxing atmosphere.
If you're in the need of professional expertise please do get in touch; our interior design services are flexible, allowing us the freedom to cater to projects of various sizes. We work closely with all of our clients to realise imaginative spaces which truly reflect your vision and aspirations with the aim of enhancing your at-home-experience.
We've compiled a list of frequently asked questions here, with detailed answers to provide you with reassurance and some clarity of what to expect when working with our experienced design studio.
Photography credit: Felix Mooneeram
© Images Rachel Usher Interior Design